Please note, I take no responsiblity for the contents of the sites listed below. If you want to link to my site, there are some link banners above and if you have a site you'd like me to link to, let me know!

Furry websites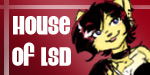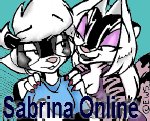 Ents & Tails - Furry home page from Entei-rah, the creator of Thank U Stars with all sorts of goodies including writing, some pictures and a big scary furvey!
J3T Fuel - Furry site from the creator of House Of LSD.
Jay Naylor - Lots and lots of luvverly furry art, especially his kitty pics.
Lackadaisy Cats - Webcomic, very nicely drawn and a great read all round!





Websites about cats



Cats Protection - Official site for the Cats Protection charity.
The Cat Gallery - Cat goodies specialist shop in York!





Comics, cartoons and suppliers



Ozy and Millie - Really cute online cartoon strip.
Page 45 - Surely the best comic retailer in the UK!
Radio Comix - Publishers of loads of manga and furry comics.
Strangehaven - Set in England, has been compared to Twin Peaks, but that really doesn't do it justice.
United Publications - UKs best source for furry comics, etc.


This page was last updated on 20th March 2013